Configurator Plus
Configurator Plus
Sell More, Save Time And Enjoy Your Life!
Le configurateur Planetsoarshop, Powered by PVStream, bénéficie de l'une des configurations solaires les plus puissantes du marché. Grâce à une analyse détaillée de la consommation d'énergie de votre client, vous pouvez construire votre installation solaire à l'aide de notre configurateur.
Générez des designs électriques très détaillés, montrant tous les branchements et les onduleurs connectés de manière très détaillée, avec la possibilité d'apporter des modifications. Grâce à la puissance du configurateur, vous pouvez générer automatiquement des plans électriques en utilisant les onduleurs Planetsoarshop, ou vos onduleurs téléchargés si vous êtes déjà abonné à la "version Plus" du configurateur.
Electrical Design
Intuitive and automated design tool allows to create full-scale accurate electrical design within minutes, with possibility of manual adjustments. With a few clicks:
Prepare electrical design automatically and make manual adjustments

Calculate required inverters, place them, divide array on strings and attach strings to proper inverters

Analyze, design and calculate best-fitting inverter combinations

Calculate and add best fitting inverters

Create strings and assign them to inverter

Create Single Line Diagrams

Export to PDF
Conversion
Use information from Lead Generation forms to create accurate proposals that effortlessly fit your customer's needs within 5 minutes
Increase your sales by creating accurate and detailed proposals within 5 minutes

Analyze your customer energy consumption

Automatically generate optimal panel layout and calculate energy production

Short processing time & graphic proposals - increased customer conversions

Run financial analysis and calculate long-term savings

Run shading analysis

Export to AutoCAD (DXF) or PDF
Precise modeling and calculations allow you to optimize solar energy system design and present all calculations in one report.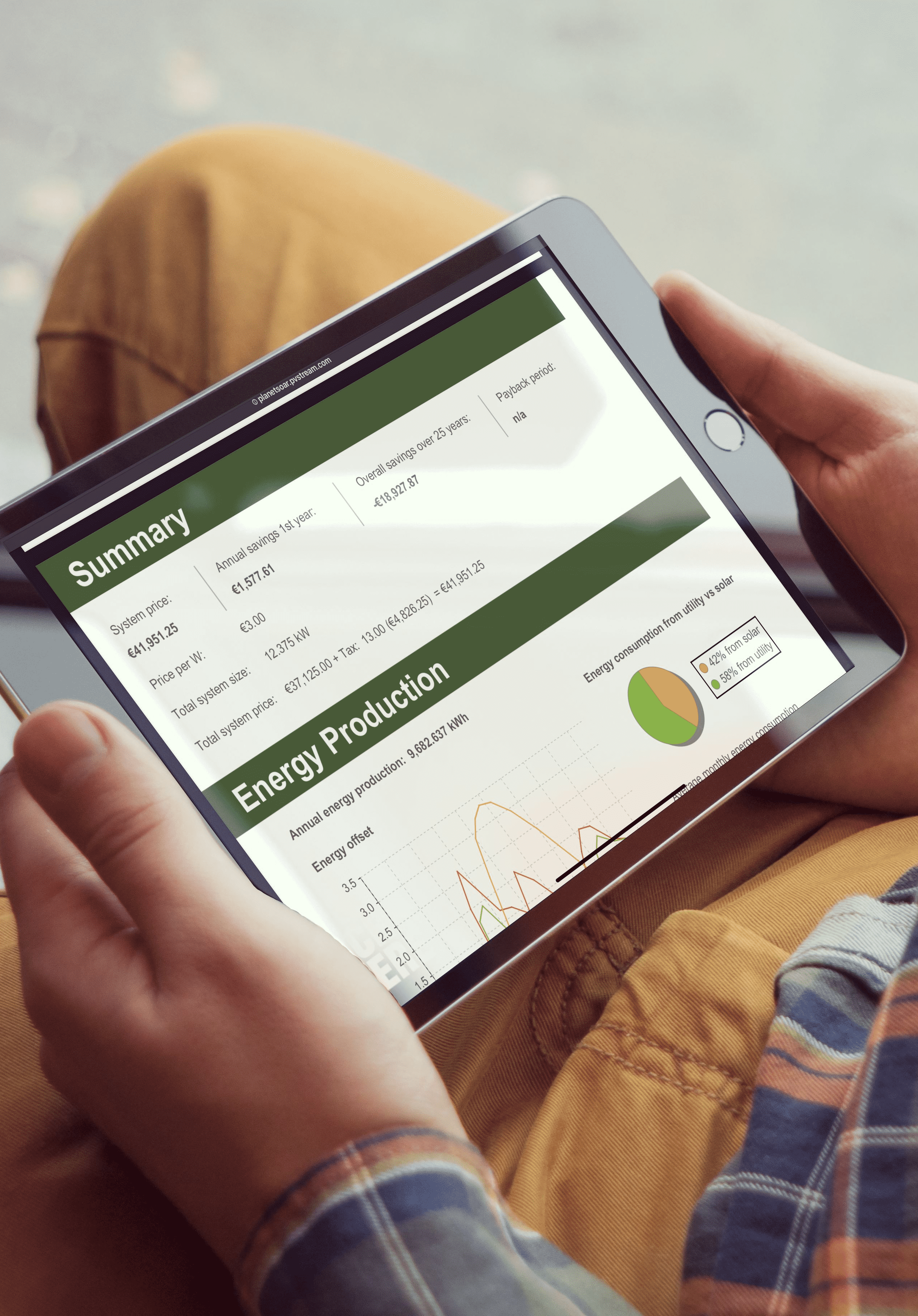 Sales
Instant analysis of feasibility.
Engage your leads with instant information on their potential savings. Gather required information with custom lead generation forms to respond within minutes

Give your customers instant answers if the project is economically feasible, based on the address of the customer.

Information gathered at Lead Stage is seamlessly moved to Proposal Generation Stage.
Build lead-capturing widgets

Allow your customers to instantly calculate their potential savings

Analyse and prioritise your leads

Gather data required for financial quotation and seamlessly use it in the next step

Export leads to your CRM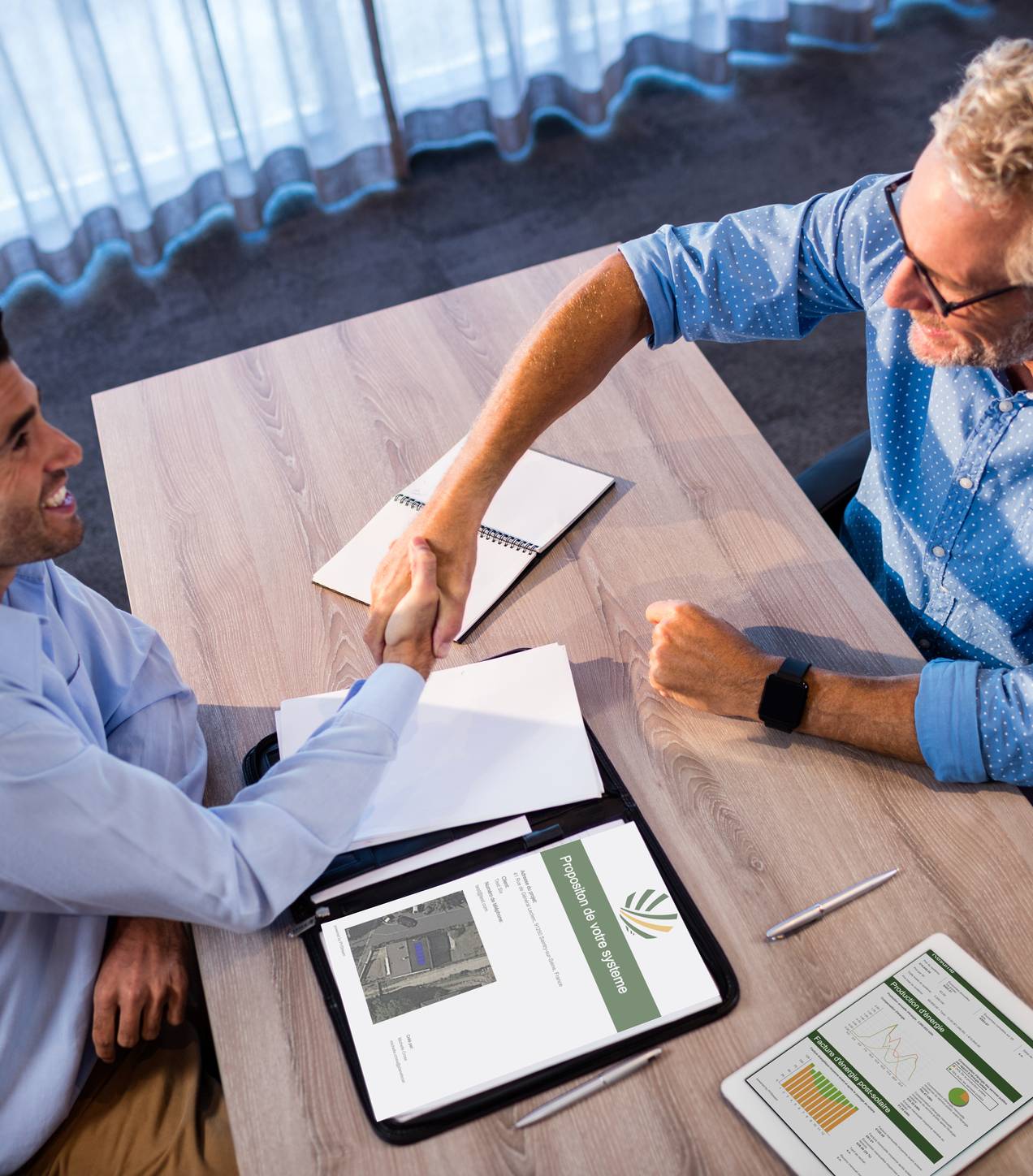 Value For Installers by Improving The Sales Process
Reduces processing times, improves conversion rates
Generates an individual commercial offer for PV systems within minutes
Dramatically reduces the resources required for your PV power development process.
Generate proposals and reports, each of which is specifically designed for your customers' needs. Digitally, you will be able to use your e-mail to send your estimate and proposal.
Customizable Configurator
Benefit from the Configurators Plus fully customizable feature. With the chance to change and add your inventory, while still maintaining access to the Planetsoarshop Inventory, you can provide your customers with a wide range of options. Customize the configurator to best suit your needs. With the configurator Plus:
Put your logo to represent your company as much as possible.
Add your Inventory to propose whatever you would like to your customers
Get Solar Prepositions with your name and logo on it

1. Starting-up a Project and Energy Consumption
In this video, you will learn how to start your solar installations. You will log in with your password to access the application. You will first learn how to log in to the configurator site and choose the location and size of your house, as well as the possible use of a water heater. You will then need to enter all the necessary information, such as your monthly energy consumption, in the menu. The configurator will then generate your energy production graph, which you can modify manually, using your energy bills, and the electricity prices of your supplier, EDF in France for example.
2. How to create / update the Design.
This is where you will now start your solar installation. You will need to manually set the desired dimensions on your house. If you have any obstructions that could hinder the performance of your solar panels, such as trees or a chimney, you should highlight them here. Once this is done, you will need to choose the solar panel you want. All products in our configurator are synchronised with the planetsoarshop or product database, which means that you can find all our products on our configurator.
3. How to create/update Electrical Design
The Planetsoarshop configurator is suitable for all the needs of a solar panel installer. In this video, you will see how you can use the circuit generator of our configurator. You will have the choice to choose your inverter according to your customer's energy and power needs or to generate it automatically, depending on the number of solar panels your customer has.
4. How to Obtain the Proposal Documents
Here you will learn how to get your proposal. When your installation is complete, you will receive a record of the cost of your equipment. You can export this invoice, which will allow you to share it by email. In this invoice, we have included important information such as your self-consumption file and the estimated energy production. In this file, you will also find an estimate of your customers monthly energy payment after your customer has gone solar. You will now proceed to the shopping cart where you can change your panel or inverter quantity before completing your kit.