Solar Windows
Solar Windows Blinds
Introduction
SolarGaps is the first smart external blinds with photovoltaic panels that automatically track the sun and
generate electricity from its energy while keeping the inside of your building cool.
Generate energy from solar cells, offsetting energy consumption
Block heat energy coming from the sun before it enters the building
Smart control integrate SolarGaps 3 into your building management system
BLINDS
The SolarGaps system consists of solar panels connected by a durable steel cable or by rigid guides to ensures secure attachment, even when the wind is strong. These facade blinds fully retract for a clean appearance and are protected by a headbox.
Operate from -20°C UP to 60°C
Only external installation
Wind resistance
Durable steel cable
Fully retractable
2 years of warranty
10 years min lifespan
Test with air gun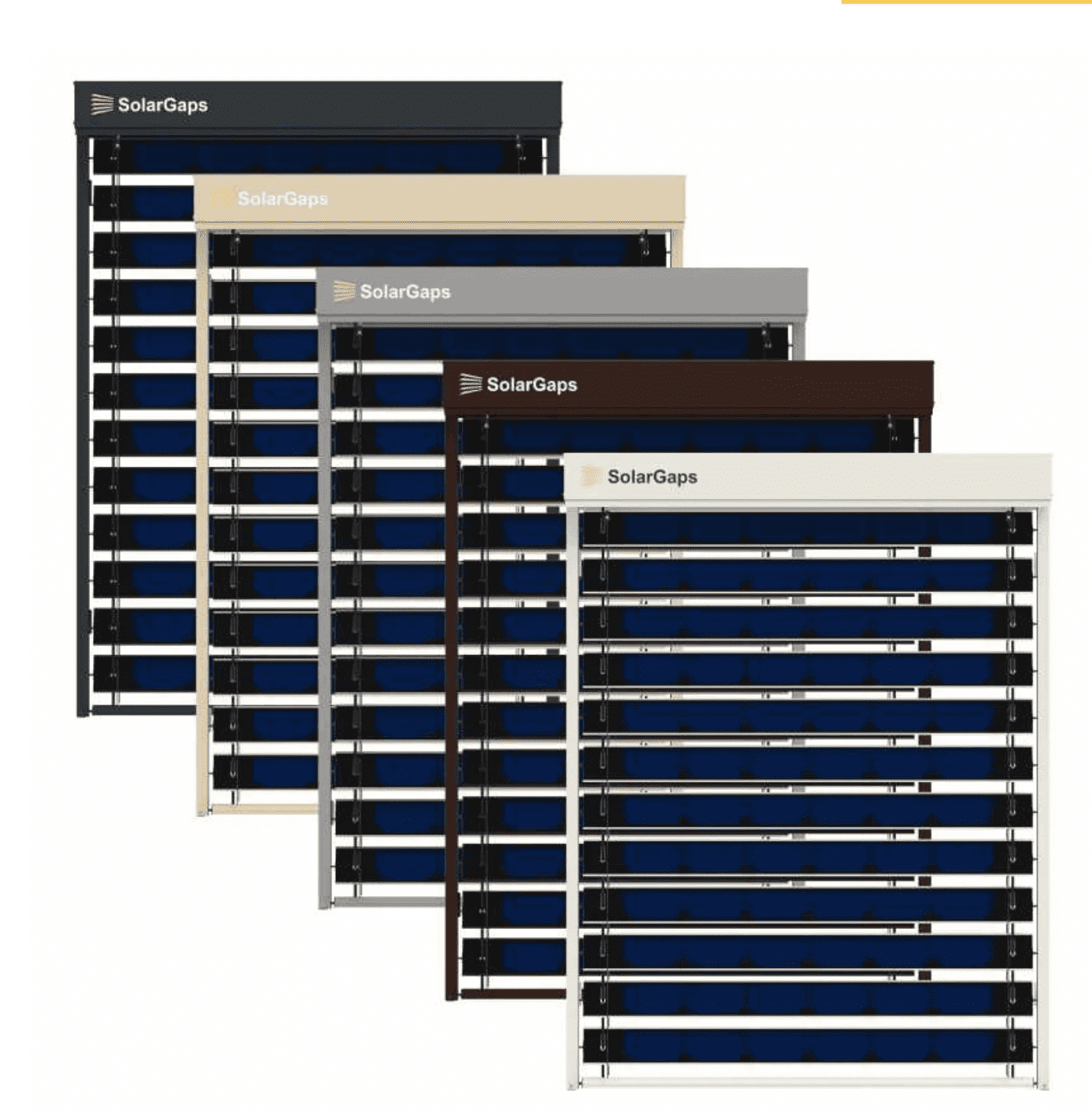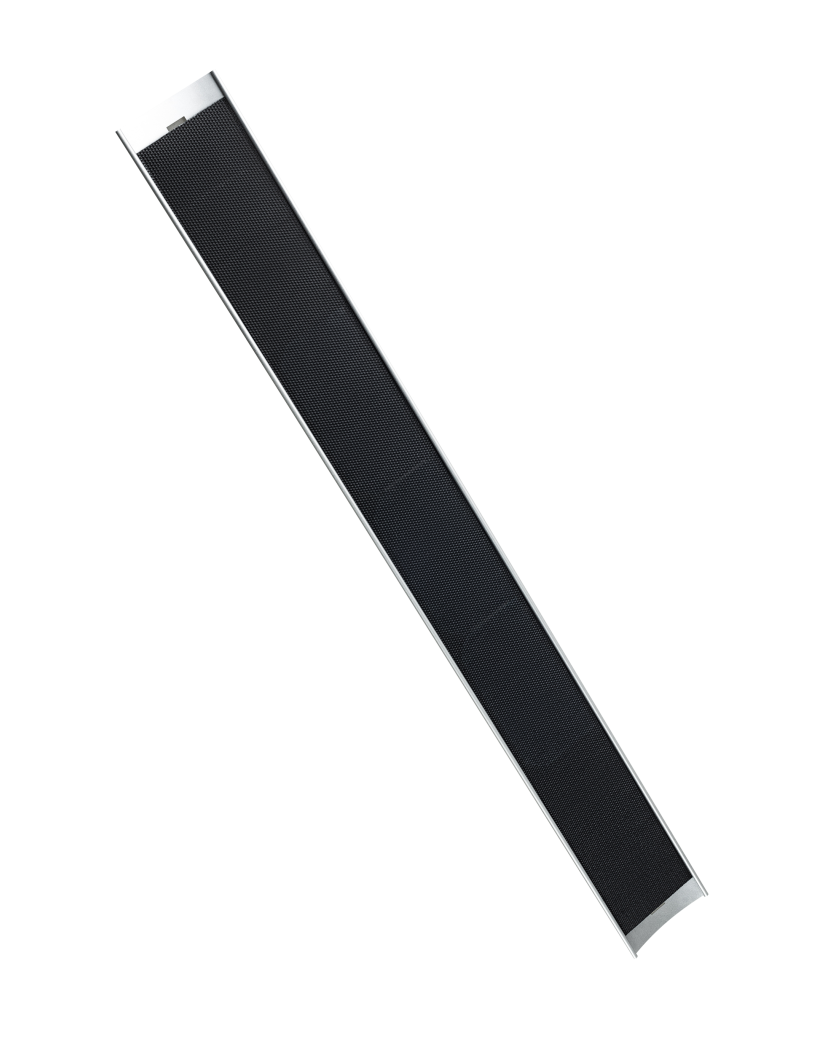 PANEL
We always choose what is best for our product and that is why we use SunPower C60 solar elements made of laminated monocrystalline silicon cells with 22,4% efficiency. Embedded in the swiss aluminum panels, SunPower solar elements with ETFE coating allow the solar panels to reach 100 Watt capacity per each 1 sqr meter during the daytime. The surface of the solar elements is designed to ensure easy cleaning when it is necessary, even though most of the dirt is being washed off naturally by rain and snowmelt.
SunPower solar cells
Efficiency 22.4%
100W per 1 SQM per hour
Self - cleaning ETFE coating
25 years lifespan
SWISS aluminium slats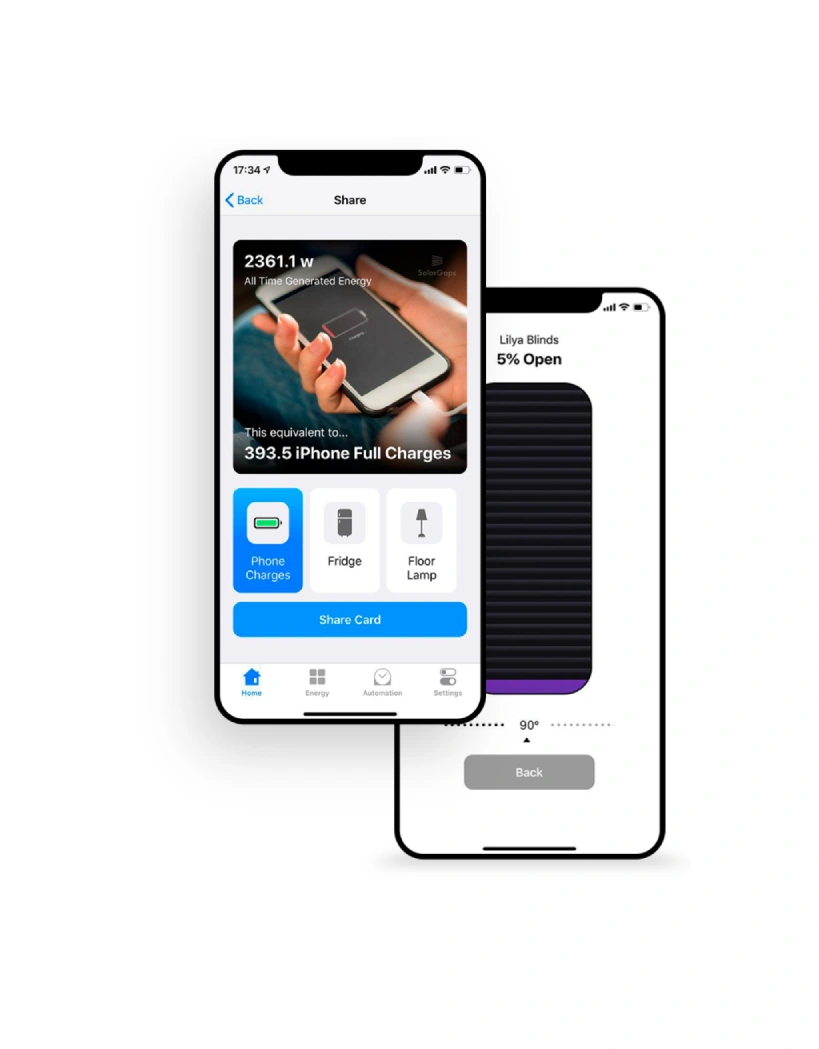 CONTROL
You can get all the benefits of using SolarGaps smart external blinds with an easy-to-use app, available for Android (4.4 and up) and iOS (11 and up). SolarGaps facade blinds will be connected to your smartphone through Wi-Fi. For the SolarGaps app to work flawlessly, high-quality signal with a speed of no less than 1 Mbps is required.
IOS and android
Smart home integration
Remote access
Performance reports
Voice control
Smart features, E.G. alarm clock
MOTOR
Electronic management device (EMD), invented by SolarGaps, is responsible for the slat position, enabling a "smart tracking" feature, and controls electricity generation, as well as transmits data from the blinds to the cloud platform and mobile application. To full fill these functions most efficiently we use a high-quality Somfy motor to work in connection with theSolarGaps EMD. The sturdy Somfy motor is powered by electricity operating in -20°C temperatures.
Sturdy and durable motor
Speed 24 revolutions per minute
Controlled by electronic module
Operates from -20 to 70°C
Quiet operation (50 DB)
INVERTER
The direct current (DC) energy generated by a solar panel is not useful on its own as most households and offices using alternating current (AC). A solar inverter or a photovoltaic (PV) inverter converts DC energy into AC energy for powering appliances connected to the grid.
Transforms solar Energy to electricity
Converts direct to alternating current
High average efficiency of 95%
Globally certified for C-ETL-US, SAA, TUV, ETC
Minimal input voltage 24V
Designed in USA
No noise emission